Violin Duo
" Violin duo " is a French duo, Lionel (violin) and Isabelle (viola) are husband and wife.
Our vocation is to give a musical touch to enable you to go out of the way with a cocktail or dinner party, to your family gatherings (weddings, birthday,…) or professional events (seminaries, conferences, varnishing, …).
Since 2005 we animate regulary prestigious events in France and to the foreigner.
We wish to act as ambassadors of French culture and spirit abroad, the French Touch!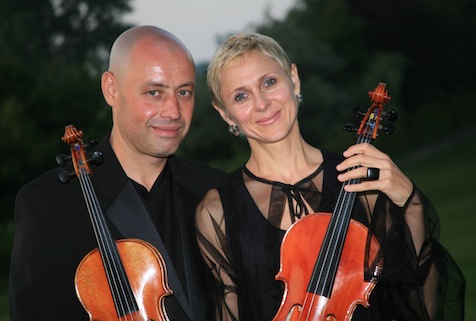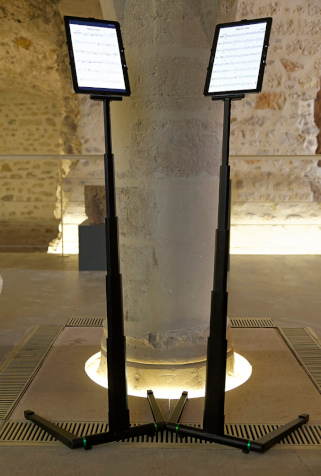 Our repertoire
We offer a Mozart repertoire the most famous pieces of classic music along with the standards of jazz, french and international songs.
This programme is ideal to give a refined and elegant French touch to all your events and to spread the French spirit and culture.
Repertoire
Adams Everything I do
Adamo Tombe la neige
Adkins Someone Like You
Anderson/Lopez Let it go
Andersson/Ulvaeus The winner takes it all
Andre/Schwandt Dream a little dream of me
Arlen Over the rainbow – Stormy weather
Arnold Le pont de la rivière Kwaï
Auriat/Bouchety Il venait d'avoir 18 ans
Aznavour Comme ils disent – Emmenez-moi – Hier encore – La Bohème – La Mamma – Mourir d'aimer – Non,je n'ai rien oublié – Nous nous reverrons un jour ou l'autre – Plaisirs démodés – Tu te laisses aller
Badelt Pirates des caraïbes
Balavoine SOS d'un terrien en détresse
Barbara Göttingen – L'aigle noir – Ma plus belle histoire d'amour – Une petite cantate
Barnel Le géant de papier – Mourir sur scène
Baxter Unchained melody
Béart L'eau vive
Bécaud Et maintenant – L'important c'est la rose
Belle La Parisienne
Berger Le monde est stone – Message personnel – Quelques mots d'amour – Un garçon pas comme les autres
Bernard Ma Fille
Bernstein E. Les 7 mercenaires
Bernstein L. West Side Story Medley
Betti C'est si bon
Bolling Borsalino
Bonfi Manhà de carnaval
Bono My baby shot me down
Bourgeois La Madrague
Bourtayre Gentleman cambrioleur
Brassens Le chapeau de Mireille – Medley
Brel Amsterdam – La chanson des vieux amants – Ne me quitte pas – Quand on a que l'amour
Brown Make 'em laugh – Singin' in the rain
Brubeck Blue Rondo à la Turk
Cabral La foule
Cabrel Je l'aime à mourir – L'encre de tes yeux
Cano Hijo de la luna
Cara L'oiseau et l'enfant
Carmen/Rachmaninov All by myself
Carpenter Yesterday Once More
Carpi Birichinata
Carrara Mon amant de Saint-Jean
Cetera If you leave me now
Chaplin Medley
Chatau Frou Frou
Churchill Un jour mon prince viendra
Clerc Ce n'est rien – Femme je vous aime – Ma préférence
Cocciente Belle – Le temps des cathédrales
Cohen Hallelujah
Colombier Emmanuel
Cosma Le grand blond avec une chaussure noire
Creatore/Peretti/Weiss Can't help falling in love
Cremonesi/Valsiglio/Cavalli La solitudine
Cutugno En chantant – L'été indien
Dalla Caruso
Darwich Salma ya salma
Datin/Brubeck Le jazz et la java
Davis/Gordy/Hutch/West I'll be there
De Curtis Torna a Sorriento
Deguelt Le ciel, le soleil et la mer
Delerue Le tourbillon de la vie
Delpech/Vincent Chez Laurette
Denza Funiculi-Funicula
Desmond Take Five
De Senneville Ballade pour Adeline – Tous les bateaux, tous les oiseaux
De Stephani/Farina/Minellono Felicita
Dewitte J'ai encore rêvé d'elle
Di Capua O Sole Mio
Di Paola/Taccani Come Prima
Distel La belle vie
Djawadi Games of thrones
Dumont Non, je ne regrette rien
E.King/Leiber/Stoller Stand by me
El Roman Beni affeder misin
Fanciulli Bambino
Farres Quizas, quizas, quizas
Felder/Frey/Henley Hotel California
Fernandez Guantanamera
Ferrat La montagne
Ferré Avec le temps – Jolie môme – Paris canaille
Ferrer Le Sud
Ferrio Paroles, Paroles
Fontana Che Sara
Fox Killing me softly with this song
Fucik Entrée des gladiateurs
Fugain Bravo Monsieur le monde – La fête – Une belle histoire
Gabler/Kaempfer L-o-v-e
Gainsbourg Elisa – La javanaise – Le poinçonneur des lilas – Poupée de cire, poupée de son
Garner Misty
Garvarentz Retiens la nuit
Gaste Feelings
Gershwin Summertime
Ghinazzi/Farina/Pace Sara perche ti amo
Gibb How deep is your love – Woman in love
Giraud Sous le ciel de Paris
Glanzberg Grands boulevards – Padam Padam
Golan Comment te dire adieu
Goldman Encore un soir – Je te promets – Là-bas – Les restos du coeur – Né en 17 – Pas toi – S'il suffisait d'aimer – Tournent les violons
Gross Tenderly
Harrison Here comes the sun
Herman Hello,Dolly
Higelin Tombé du ciel
Hisaishi Castle in the sky – Tonari no Tortoro
Horner My heart will go on
Howard Fly me to the moon
Hurwitz Mia & Sebastian's thème
Iglesias Pauvres diables
Iradier La Paloma
Jackson Heal the World – I just can't stop loving you
Jarre La chanson de Lara – Paris en colère
Jobim Desafinado – How Insensitive – The girl from Ipanema
Joel Honesty – Just the way you are
John Sorry seems to be hardest word
Jonasz Je voulais te dire que je t'attends
Jones We are the world
Joplin The entertainer
Kaempfert Stranger in the night
Kander New York, New York
Kelly You are not alone
Kingsley Popcorn
Kondo Super Mario Bros- Zelda's lullaby
Kosma Les feuilles mortes
Lai La bicyclette – Les étoiles du cinéma – Love Story – Un homme et une femme
Lama/Dona Je suis malade
Legrand Chanson de Maxence – Les moulins de mon coeur – Les parapluies de Cherbourg – Nous voyageons de ville en ville – The Summer knows
Lemarque A Paris
Lennon Imagine
Lenoir Parlez-moi d'amour
Lloyd Webber Memory
Lopez La belle de Cadix – L'amour est un bouquet de violettes – Méditerranée – Mexico – Rossignol de mes amours
Los Kjarkas Lloranda se fue
Louiguy La vie en rose
Macias Le mendiant de l'amour
Mancini Moon river
Mandel The shadow of your smile
Marchetti Fascination
Martini Plaisir d'amour
Maurici Si t'étais là
McCartney Hey Jude – Let it be – Michelle – Yesterday
McCartney/Lennon Penny Lane
McFerrin Don't worry, be happy
Medley Russia
Mercury Bohemian Rhapsody – We are the champions
Miller Moonlight sérénade
Mireille Puisque vous partez en voyage
Mizell/Perren/Gordy/Richards I want you back
Modugno Volare
Monnot Hymne à l'amour – Milord
Morgan El Bimbo
Morricone Châteaux d'Ecosse – Chi Mai – Cinéma Paradiso – Il était une fois dans l'ouest
Nougaro Cécile ma fille
Obispo Lucie
Olivieri J'attendrai
Oshio Twilight
Papadiamandis La dernière séance
Parks Something Stupid
Parton I will always love you
Perry/Hodges A thousand years
Petit Jean de Florette
Piazzolla Oblivion
Polnareff Goodbye Marilou – Lettre à France – Tout, tout pour ma chérie
Popp Love is blue
Porter C'est magnifique
Poulton Aura Lea
Presgurvic Les rois du monde
Ram/Rand Only you
Renard Antoine Le temps des cerises
Renard Jean La Maritza – Que je t'aime
Renaud/Goude Mistral gagnant
Revaux La maladie d'amour – Les lacs du Connemara
Revaux/François Comme d'habitude
Revaux/Sardou Je vais t'aimer
Richie Hello
Robles El condor Pasa
Rodgers My funny Valentine – The lady is a tramp
Rota Amarcord – Gelsomina – Gogfather – 8 1/2 – La Dolce Vita
Roussos Quand je t'aime
Roux/Canfora Salade de fruits
Ruiz Quien sera
Saint-Preux Concerto pour une voix
Salvador Syracuse – Une chanson douce
Sanson Amoureuse – Ma révérence
Sarde La chanson d'Hélène
Sartori Con te Partiro
Scharf Ben
Schenker Still loving you
Schultze Lili Marleen
Scotto La java bleue – Marinella/Tchi-Tchi – Sous les ponts de Paris
Sebastian Gigi l'amoroso
Shearing Lullaby of Birdland
Simon The sound of silence
Skorsky La bonne franquette
Sor Jeux interdits
Steiner Autant en emporte le vent
Strayhorn Take the A train
Theodorakis Sirtaki
Thiele/Weiss What a wonderful world
Thielemans Bluesette
Tozzi/Bigazzi Tu
Trenet Je chante – La mer – Que reste t-il de nos amours?
Umebayashi In the mood for love
Valéry Comme un p'tit coquelicot
Vander Le coq et la pendule
Vangélis Conquest of paradise – Les chariots de feu
Van Parys La complainte de la butte
Velazquez Besame moucho
Vilard Capri c'est fini
Vlavianos Forever and ever
Voisine Tant pis
Weill Mack the Knife
Williams La liste de Schindler – Star Wars
Wish/Deighan Les Champs -Elysées
Wonder You are the sunshine of my life
Youmans Tea for two
Yvain Mon homme

Zelli/Mengali Vivo per lei
Traditionnel Celtique Amazing Grace – Brian Boru's March – Drowsy Maggie – Far Away – Greensleeves – John Ryan's Polka – King of the fairies – Londonderry Air – Lord Mac Donald's – Scarborough Fair – Skye boat song – The Fairy Danse – The Lilting that Banshee – Ingonish – The Wind That Shakes the barley
Traditionnel International Bella ciao – Ce n'est qu'un au revoir – Chan Mali Chan – Happy Birthday – Hava Naguila – Jasmine Flower – La farandola Nissarda – Marche Nuptiale – Nada Soso – Nissa la bella – Sakura – Shima Uta – Stand up for Singapore
Traditionnel Noël Away in a manger – Deck the halls – Ding Dong!Merrily on hight – Douce nuit – God rest ye gentlemen – Greensleeves – Il est né le divin enfant – I wish you merry Christmas – Joy to the world – Le chant des anges – Les anges dans nos campagnes – Let it snow – Medley Noël – Mon beau sapin – O come, all the faithful – O holy night – Petit papa Noël – Santa Claus is coming to town – The Christmas song – Vive le vent
Mozart
Petite musique de nuit (Allegro-Romance-Menuet-Rondo)
Divertimento I (Allegro-Andante-Presto)
Divertimento II (Andante-Allegro di molto-Allegro assaï)
Divertimento III (Allegro-Andante-Presto)
KV 155 (Allegro moderato-Andante-Molto allegro)
KV 156 (Presto-Adagio-Menuet)
KV 157 (Allegro-Andante-Presto)
KV 158 (Allegro-Andante-menuet)
KV 159 (Andante-Allegro-Rondo)
KV 160 (Allegro-Adagio-Presto)
Concerto N° 21 (Andante)
Concerto N° 23 (Adagio)
Duo en Sol Majeur (Rondo)
Les Noces de Figaro (Ouverture-Arietta)
Marche Turque
Sonate N° 16 (Allegro)
Symphonie N°40 (Allegro)
Albinoni Adagio
Bach Aria – Badinerie – Brandebourgeois III – Cantate N°147 – Prélude N°1
Beethoven La lettre à Elise – Sonate clair de lune – Symphonie N°7
Bellini Casta Diva
Bizet L'Arlésienne- Carmen
Boccherini Menuet
Borodine Danses polovtsiennes
Brahms Berceuse – Danse Hongroise N°5 – Symphonie N°3 – Valse N°15
Caccini Ave Maria
Charpentier Te Deum
Chopin Marche funèbre – Nocturne N°2 – Prélude 7 – Valse La mineur
Debussy Clair de lune
Dvorak Danse slave – Humoresque N°7
Elgar Marche – Enigma
Fauré Pavane
Gounod Ave Maria
Grieg Peer Gynt
Haendel Sarabande
Haydn Sérénade
Khatchatourian Danse du sabre
Kreisler Liebeslied
Lehar Heure exquise
Lully Menuet Bourgeois Gentilhomme
Malher Adagietto
Mascagni Cavalleria Intermezzo
Offenbach Barcarolle – Cancan – La Lettre
Pachelbel Canon
Purcell Abdelazer Rondeau & Hornpipe
Ravel Boléro
Rodrigo Concerto d'Aranjuez
Rossini Le Barbier de Séville
Saint-Saens Le cygne
Satie Gnossienne N°1 – Gymnopédie N°1
Schostakowitsch Valse N°2
Schubert Ave Maria – Moment Musical – Sérénade – La Truite
Schumann Rêverie
Sibelius Valse triste
Smetana La Moldau
Strauss Valses
Tarrega Recuerdos de la Alhambra
Tchaikovsky Casse-noisette – Sérénade – Le lac des Cygnes
Verdi La forza del destino – Libiamo – Traviata prélude – Marche triomphale – Va,Pensiero
Vivaldi Les 4 Saisons
Our audios
Hello
Mack The Knife
La Paloma
La Bohème
Blue Rondo à la Turk
Moonlight Serenade
Imagine
I'll Be There
Hallelujah
Sakura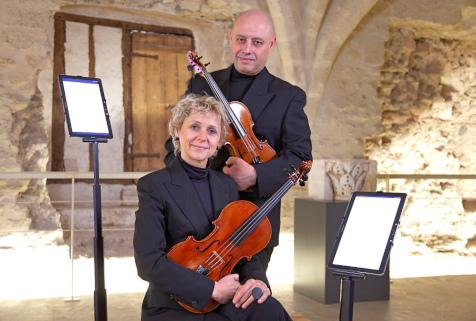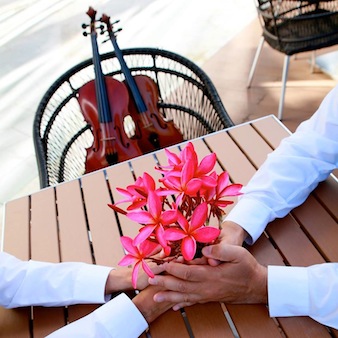 Our offer
Aware of the fact that music must bring an elegant and discreet touch, we are at your disposal the talk about your wishes and hence successfully contribute to your events.
Our performance will adapt as best as possible to your requirements: length, programme, style, …
Our price: from 500 €.
Our partners
Nous avons le plaisir et le privilège de compter parmi nos partenaires :
Auberge du jeu de Paume
Chateau Hotel Mont Royal
Club Med Talents
Conseil départemental de l'Oise
Domaine Château Ermenonville
Dorothy's Gallery
Four seasons Hotel George V
La petite Vadrouille
Le musée Adzak
Linkaband
Livetonight
Mariage.net
Maisons de famille
Myconcierge
Orpéa
Perfectpariswedding
Planète Event
Printemps
Studio Bruno Cohen
Ville de Nice
Ville de Senlis
Zankyou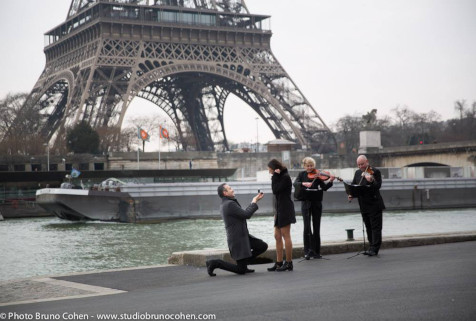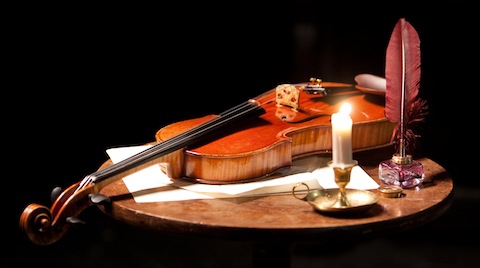 Our visitors' book
You attended one of our permormances and you wish to bring us your testimony?
Please leave a few words in this visitor's book, we'd be happy to read it.